The basket this week did not disappoint – filled with wonderful Fall fruits and veggies, as well as a couple summer holdovers. Â  After a hectic month that included moving, I was more than ready to replenish our produce. Â As we are still getting settled into our new home, I exercised a little self restraint (hard to believe, I know). Â I contributed for a Conventional basket, as well as a case of Honeycrisp apples. Â Love, love, love the Honeycrisps!
You've got your Bountiful Basket home, cleaned all your goodies and now comes the fun part – deciding what to make with all the awesome produce. If you didn't get a basket, you can still use these recipes with produce you purchased at the farmer's market or grocery store – it's all in season now, readily available and prices out very well.  Click on the colored recipe titles to link directly to the recipes.
CONVENTIONAL BASKET RECIPES:Â  The following items were in my basket this week: Â grapefruit, kiwi, lemon, leaf lettuce, cantaloupe, Baby Bella mushrooms, pineapple, pomegranate, red potatoes, radishes, gray squash and yellow squash.
Glazed Grapefruit Cake – we aren't big grapefruit fans, but cake could be a game changer.
How to Peel a Kiwi with a Spoon – photo tutorial.
Copycat Applebee's Kiwi Lemonade – I'll reduce the sugar.
Lemon Garlic Pasta – simple side or main dish.
Spicy Cantaloupe Cucumber Salad.
Skinny "Cream" of Mushroom Soup – no mystery ingredients.
Thai Baked Pineapple Fried Rice.
The Easy Way to Remove Pomegranate Seeds – photo tutorial.
Pomegranate Grapefruit Punch – looks refreshing.
Spicy Potato Wedges.
Cinnamon Sugar Radish Chips – I admit this sounds bizarre, but if Pinch of Yum says it's good, then it's worth a try.
Calabasitas (Mexican Squash & Corn)Â – use the yellow or gray squash.
Healthier Copycat Orange Julius – family favorite. Â Use yellow squash.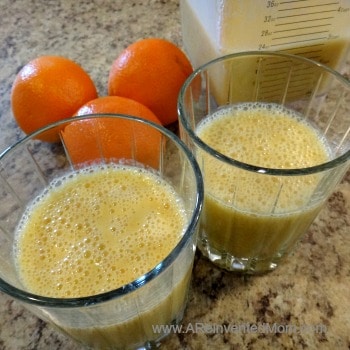 What is your favorite basket item this week?  Feel free to share your favorite recipes in the comments – I love to try new recipes!
For more inspiration, see all my Bountiful Baskets posts and my Bountiful Baskets Pinterest Board.
The Bountiful Baskets website can be found HERE.
Follow me on Pinterest, Facebook, Yummly and Twitter.
This post may contain affiliate links. Â If you choose to click on the link and/or make a purchase, I will be paid a small amount which helps to support this website. Your price is the same, whether or not you use the link. Â This does not influence or change my opinion. Â