Did you overspend on the holidays? Are you struggling to save money? Try the 52 Week Money Challenge to jumpstart your savings plan today.
As the year comes to a close, many of us are taking the opportunity to think about goals we want to achieve in the coming year. The most common changes revolve around health and money.
Today we are going to chat about money goals for the new year. Saving money in particular.
A Bankrate survey shows that 19% of Americans save zero (ZERO!) dollars! And another 21% report saving just 5%. Shocking isn't it?!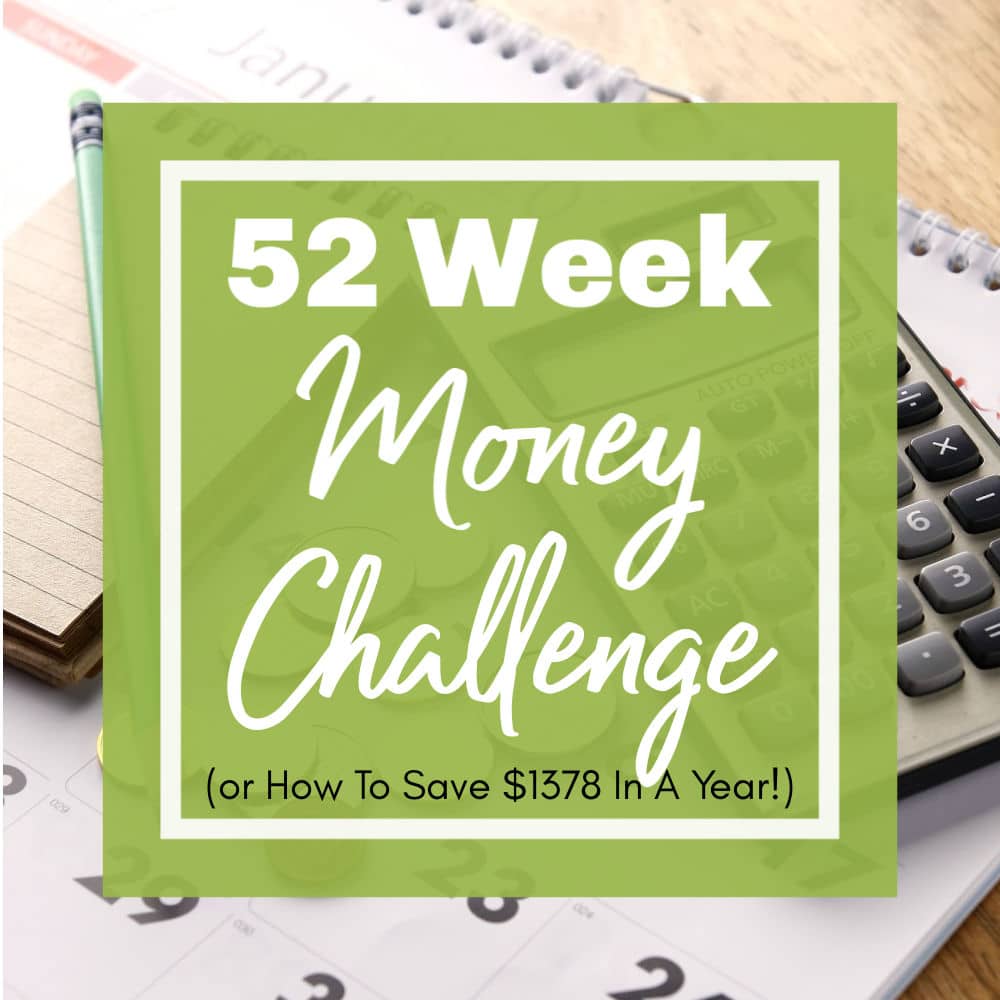 52 Week Money Challenge – How To Save $1378 In A Year + FREE Worksheet!
After the excesses of the holidays, your budget and savings may have taken a hit.
It's easy to get swept away in the holiday hooplah and overspend on food, drink, gifts and activities. No judgement – many of us have been there!
How did you pay for the festivities? Did your savings take a hit to pay for all the extras? Or did you load up the credit cards to fund the Christmas gifts?
I'm not judging – I've been in your shoes.
It's all good until the credit card bills start rolling in. Then the memories of the good times fade and all you're left with is a pile of bills. Ugh!
As you start chipping away at the debt, you vow the coming year is going to be different. Unless you put a plan in place, it's all just empty talk.
So what can you do to improve your financial situation in the coming year?
What Is The 52 Week Money Challenge?
I don't know the origins of the 52 Week Money Challenge but it's been around for a long while. I initially discovered it over 5 years ago.
The 52 Week Money Challenge is one of the easiest ways to jumpstart your savings habit. The premise is simple: save a pre-determined amount of money every week, starting small and working your way up to a larger sum. Following the plan helps you develop regular savings habits. Sounds easy enough, right?
The first plan I followed called for starting with a $1 deposit the first week. Each consecutive week, the deposit amount increased by a $1. By the last week of the challenge, your weekly deposit increased to $52.00.
By the end of the year, I had socked away $1,378.00!!! An amazing result that started with just a single dollar bill!
Who Should Participate in the 52 Week Money Challenge?
ANYONE can participate in this challenge – it's that easy! In fact, it's easy enough for teens and young children to take part (I would scale back the amounts for children).
The 52 Week Money Challenge is tailor-made for anyone who:
wants (or needs!) to start a savings plan.
needs structure to ensure savings success.
wants to fund a large purchase (travel, holiday gifts, etc.).
needs to create an emergency fund.
After a few VERY challenging years financially, I was finally in a position to begin saving a little money. But I was having a difficult time getting the savings ball rolling.
My job wasn't stable. I had large debts I was paying off. Call me overwhelmed!
And that was the year I pledged to find a way to pay for next year's Christmas gifts in CASH.
What was I thinking?! I stalled out thinking of hurdles rather than solutions.
Enter the 52 Week Savings Challenge. Boy, was it a timely discovery for me! Exactly what I needed to get the savings ball moving along.
Identify "Why" You Are Saving Money
Generally, if you understand your purpose you will be more likely to succeed. And that applies to saving money as well. In fact, the purpose may be your greatest motivator to staying on track with the savings plan.
Maybe you want to start saving now for Christmas 2019. Just imagine how awesome it would be to pay CASH for all your holiday expenses! I can tell you first hand it feels GREAT not racking up debt over the holidays.
Perhaps you want to travel over the holiday. Start saving now to fund the trip. You can fully enjoy your trip when you aren't going into debt paying for it.
Or maybe you need to establish an emergency fund. Having an emergency fund is essential to covering life's unexpected expenses. Whether it's home or vehicle repair costs or medical expenses, you gain a certain level of security knowing you can pay these expenses without resorting to credit cards.
So, identify your "Why". Write it down on the Tracking Sheet. And think about it every time you make a deposit. This is what will keep you motivated when the going gets tough.
Plan "How" You Will Safekeep Your Money
Planning how and where you will stash your savings is important. You want the location to be convenient for deposits but secure enough that you aren't dipping into it for coffee money.
I don't recommend comingling the funds with your household account. It's too easy to spend your hard-saved funds on household expenses or entertainment.
If you have the strength to keep your hands out of the proverbial cookie jar, a simple container at home can be effective. I used an old hot cocoa tin the first year I did the challenge.
Another great option is to set up a new bank account, to be used solely for your 52 Week Money Challenge. Like the "cookie jar" storage option, you need to have a "hands off" mindset with this account.
Whether you stash your cash in a jar or set up a separate account, select a plan that makes the most sense for YOU.
Determine How You Will Make Deposits Into Your Account
If you have chosen to keep your funds at home in a jar, you will need to plan ahead to ensure you have the appropriate amount of cash to stash. I'll be honest, this can be a bit of a hassle if you don't plan ahead.
If you opted to deposit your funds in a bank account, make sure you transfer the funds as soon as you receive your paycheck. Pay yourself FIRST! Delaying the transfer could mean you'll spend the money elsewhere and won't be able to fund the weekly payment.
How Do I Use the 52 Week Savings Challenge Chart?
The original plan wasn't optimal for me. So, I made a few modifications. The basics are still in place, but I have altered the details to make it a better fit for my situation.
And, I've made it FUN! Because honestly, saving money should be fun! And I believe you are more likely to be successful if you enjoy the process.
So, I created a worksheet that allows flexibility while you save money.
The first thing you'll notice is the dollar amounts aren't in any particular order. I've eliminated fixed dollar amounts in particular weeks.
Second, the worksheet is laid out in grid form, similar to a Bingo board.
To get started, simply determine how much you will save the first week. If you don't have much to spare, start with one of the lower amounts. If you've got a little extra money, consider depositing a larger amount.
Deposit the funds and cross off the corresponding number on the chart. Continue in this manner throughout the year, selecting amounts that haven't been crossed off.
This method will allow you to have control over the dollar amount you contribute weekly. If funds are tight, select a lower amount. If you received a bonus at work or a tax refund, select larger amounts.
At the end of the year, all the numbers will be crossed off and you'll have $1,378.00 saved!
Can I Use The Worksheet If I Am Paid Semi-Monthly Or Monthly?
Absolutely! If you are paid twice a month, simply select 2 boxes every paycheck. If paid monthly, select 4-5 boxes.
Again, this plan is flexible – YOU select the amounts to contribute.
Do I Have to Start The Challenge on January 1?
No. You can start the 52 Week Money Challenge at any time. If you are a week or two into the new year, you can select a couple make up squares and you are on track to finish by the end of the current year.
You can even start the challenge mid-year. There are no rules that state the 52 weeks have to begin in January.
The important thing is to simply begin saving.
The Downside of the 52 Week Money Challenge
I'm going to be honest – it's not a perfect plan. And it wasn't always easy – saving money is hard work for some of us!
I struggled staying on track that first year. I'm self employed and my income varies seasonally, making it difficult to work with the standard deposit schedule.
Additionally, the largest deposits occur in December – calling for deposits totalling $202.00 over the course of the month. That's a considerable amount of money to set aside during a traditionally expensive month.
But I believe the challenge has good bones.
And I'm glad I pushed through the challenging weeks and forged ahead.
The 52 Week Money Challenge allowed me to establish good savings habits during a difficult time in my life. Good habits that continue to serve me well today.
Let's Get Started!
A weekly savings plan can be an effective way to initiate good savings habits. Especially for those of us who struggle saving money on a regular basis.
Are YOU ready to make a fresh start in the New Year? Are YOU ready to take control of your financial future by planning ahead?
NOW is the time to make a commitment to get on the path to saving money regularly.
Want to track your progress? Grab the Printable!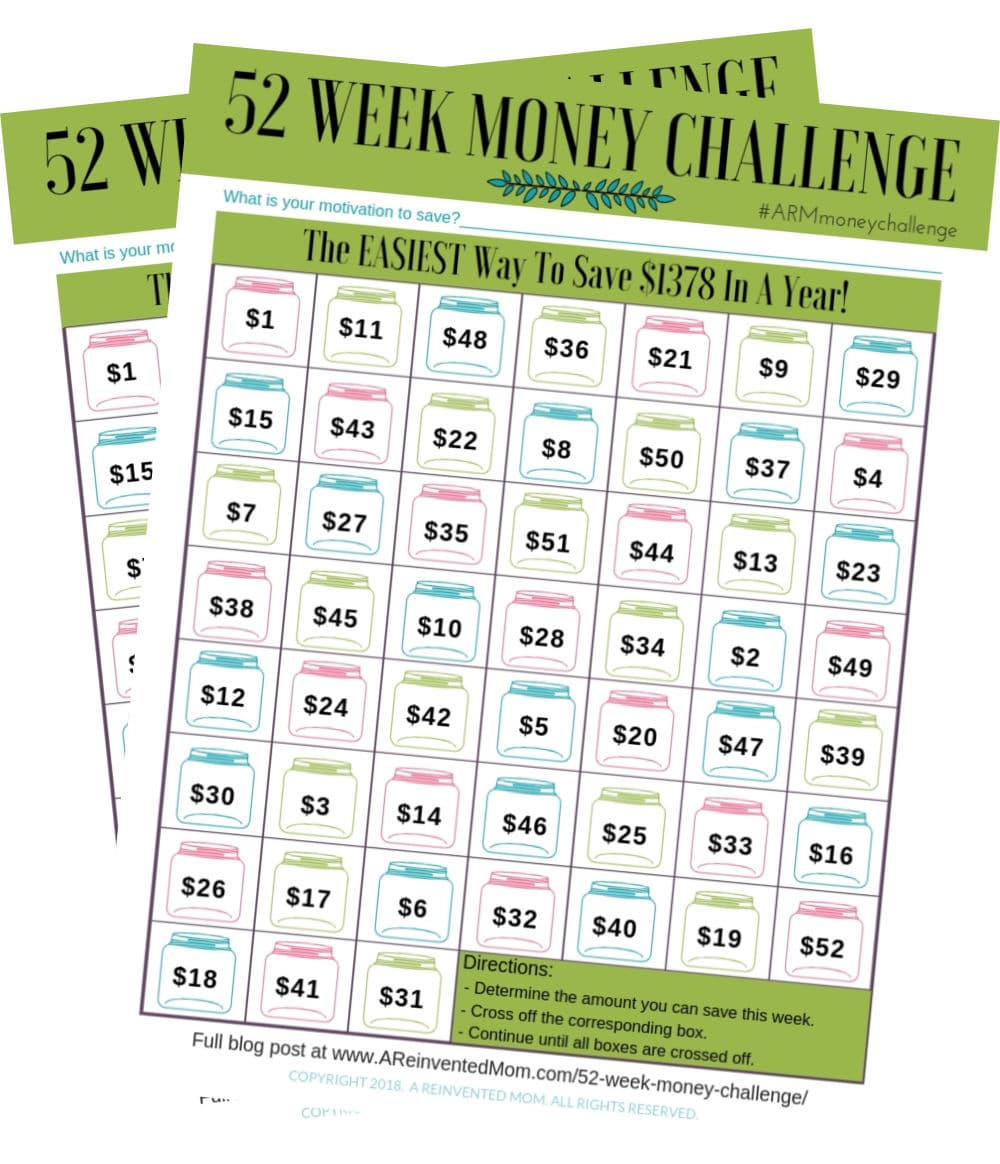 Let's do it!
Follow A Reinvented Mom on Instagram | Facebook | Pinterest
More Money Saving Posts You May Enjoy